Big Daddy's has been a Pleasure Island institution for many, many years, serving thousands of hungry visitors and locals alike. It has been known for its Calabash seafood style. But times have changed and so have we….
A Bit Of Our History
Doris Eakes worked at Smitty's for Charles Smith when he purchased the corner where Big Daddy's is located today. He shortly opened a miniature golf course (a putt-putt) on the front part of the lots. Tom Lancaster purchased the corner from the Smith's, added a small building behind the golf course, rented dune buggies, and sold hot dogs and hamburgers. A little later ice cream and pizza were added.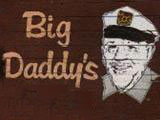 For the kids, he started an "Open Air" dance hall space out front. The music was loud! Lancaster was his own advertising media, driving his big Cadillac convertible all over the beach with large bull horns mounted on the hood blasting messages for everyone to come to Big Daddy's for dinner! He tried everything – first a breakfast house, an ice cream store, a full service restaurant with a buffet dining room, then a steak house. By the early 70's Lancaster settled on seafood, steaks, and lobster tails.
Of the original 8 or 9 Big Daddy's across NC and one in SC, there are now only two Big Daddy's restaurants—this one in Kure Beach, owned by Eakes, and one at Lake Norman owned by Fred Lancaster, Tom Lancaster's grandson.
Both locations serve "Seafood at its Best." Joe Eakes (one of the first radar operators to arrive at the beach in 1965) and Doris (nursing student attending James Walker School of Nursing in 1956) married in December 1956. The Eakes' purchased the Kure Beach store in 1981. Up until 2014, Gerald Huffman managed Big Daddy's of Kure Beach, keeping a steady and pleasant staff—frequented by locals and visitors alike.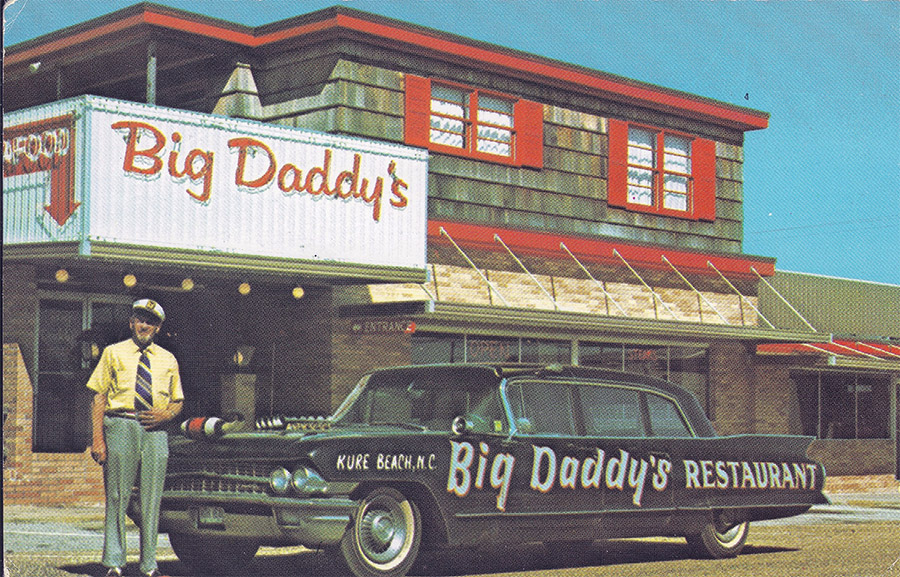 Changing For The Best
Big Daddy's has changed with the times to add a variety of excellent steamed, broiled, grill, as well as fried seafood selections, using, in many cases, the day's catch from the local fishermen. Daily we receive fresh local seafood and produce from North Carolina fisherman and farmers in order to provide a quality of food that stands alone on Pleasure Island.
We've also upgraded our staff with dedicated restaurant professionals, from our skilled wait staff to our chefs, sous chefs and cooks. You'll notice a difference right from the start, when we welcome you to the Big Daddy's of today.
Big Seafood. Big Variety.
Choose enticing entrees, from the fresh catch-of-the-day fish, Shrimp, Crab and Oysters. Fresh seafood, locally sourced, prepared to order and presented in a beautiful and appetizing style. We offer a wide variety of appetizers, soups, salads, entrees and sandwiches for lunch and dinner. Last year we added our own in-house smoker to offer you delicious smoked beef brisket and traditional pulled pork barbeque. Oh, we still do Calabash style seafood better than anywhere else, except maybe Calabash! It's what made Big Daddy's famous for great seafood.
Come enjoy our Coastal Carolina historic restaurant while dining on some of the best food you'll find on Pleasure Island.